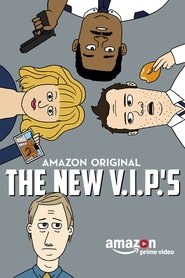 The New V.I.P.'s
A group of low-level employees take control of a major corporation after accidentally killing their boss.
Episodes:
Status: Pilot
Seasons: 1
All Episodes
You may also like
Xena: Warrior Princess
Xena: Warrior Princess is an American–New Zealand supernatural fantasy adventure series that aired in syndication from September 4, 1995 until June 18, 2001.
The series was created in 1995 by writer-director-producer Robert Tapert under his production tag, Renaissance Pictures with later executive producers being R. J. Stewart and Sam Raimi. The series narrative follows Xena, as an infamous warrior on a quest to seek redemption for her past sins against the innocent by using her formidable fighting skills to now, help those who are unable to defend themselves. Xena is accompanied by Gabrielle, who during the series changes from a simple farm girl into an Amazon warrior and Xena's comrade-in-arms; her initial naïveté helps to balance Xena and assists her in recognizing and pursuing the "greater good".
The show is a spin-off of the television series Hercules: The Legendary Journeys; the saga began with three episodes in Hercules where Xena was a recurring character originally scheduled to die in her third appearance. Aware that the character of Xena had been very successful among the public, the producers of the series decided to create a spin-off series based on her adventures. Xena was a successful show which has aired in more than 108 countries around the world since 1998. In 2004 and 2007, it was ranked #9 and #10 on TV Guide's Top Cult Shows Ever and the title character was ranked #100 on Bravo's 100 Greatest TV Characters. Xena's success has led to hundreds of tie-in products, including, comics, books, video games and conventions, realized annually since 1998 in Pasadena, California and London.

Country:
Genre:
Please Like Me
After breaking up with his girlfriend, Josh comes to the realization that he is homosexual. With the support of his now ex girlfriend Claire, and his best friend and house mate Tom, Josh must help his mother with her battle with depression and the rest of his family embrace his new found lifestyle.

Country:
Genre:
Workin' Moms
Four women juggle love, careers, and parenthood. They support, challenge, and try not to judge each other as life throws them curveballs. Whether it is an identity crisis, a huge job opportunity, postpartum depression, or an unplanned pregnancy – they face both the good and bad with grace and humour.

Country:
Genre:
The Odd Couple
Oscar's life seems almost perfect…sure he's divorced and his apartment is a mess, but he's the host of a well-known sports show, and is enjoying his bachelor lifestyle in New York City. That is until his college friend, Felix, shows up at Oscar's apartment having just been dumped by his wife. Oscar does his best to console his old buddy and get him back on the dating horse, but his attempts uncover just how unresolved his own feelings are about his ex.

Country:
Genre:
Rescue Me
Rescue Me is an American comedy-drama television series that premiered on the FX Network on July 21, 2004 and concluded on September 7, 2011. The series focuses on the professional and personal lives of a group of New York City firefighters in a fictitious Harlem Firehouse.

Country:
Genre:
Short Poppies
Journalist David Farrier goes on a quest to small town New Zealand to find the average Kiwi. What he finds in this mockumentary series, is a lovable bunch of people who are anything but ordinary or average. Each week he meets a new local, all played by Rhys Darby.

Country:
Genre:
Pulling
Pulling is a BBC comedy series, produced by Silver River Productions and broadcast on BBC Three, about three single female friends who live in Penge, south-east London. It was co-written by Sharon Horgan and Dennis Kelly and stars Sharon Horgan as Donna, Tanya Franks as Karen, Rebekah Staton as Louise and Cavan Clerkin as Karl.
Pulling was the last comedy show developed by Harry Thompson before his death.
The first series of six episodes was first shown in 2006 on BBC Three, then repeated on BBC Two in early 2008. A second six-episode series of Pulling aired on BBC Three from 23 March to 27 April 2008 and a final one-hour episode aired on BBC Three on 17 May 2009. In Australia, series one and two was first aired back-to-back on ABC2 each Thursday at 10pm from 5 March 2009 although the final one-hour episode is yet to be screened by the network. Repeats have been screening on rotation through UKTV.
In 2007, the series was BAFTA nominated for Best Situation Comedy while Horgan won a British Comedy Award for Best Comedy Entertainment Actress in 2008. In the same year, it was announced that Pulling had been cancelled by BBC Three.

Country:
Genre:
Sensitive Skin
Davina and her husband Al try to revamp their lives as they struggle with the uncertainties of middle age.

Country:
Genre:
Body of Proof
Body of Proof is an American medical drama television series that ran on ABC from March 29, 2011 to May 28, 2013 and starred Dana Delany as medical examiner Dr. Megan Hunt. The series was created by Chris Murphey and produced by ABC Studios. The show was canceled by ABC after three seasons.

Country:
Genre:
Full House
Full House is an American sitcom television series. Set in San Francisco, the show chronicles widowed father Danny Tanner, who, after the death of his wife Pam, enlists his best friend Joey Gladstone and his brother-in-law Jesse Katsopolis to help raise his three daughters, D.J., Stephanie, and Michelle.

Country:
Genre:
Transparent
An LA family with serious boundary issues have their past and future unravel when a dramatic admission causes everyone's secrets to spill out.

Country:
Genre:
Hung
Desperate times call for desperate measures and Ray Drecker's situation couldn't be much tougher. The former high school sports legend turned middle-aged high school basketball coach is divorced and struggling to provide for his kids when his already run-down house catches fire. Looking to take on a second job, Ray decides to exploit his best asset in a last-ditch attempt to change his fortunes.

Country:
Genre: